DAILY MANNA
WEDNESDAY, JUNE 2, 2021
Thank you to my friend in Christ whose name I do not know but who wishes for all the glory to go to our Lord Jesus Christ.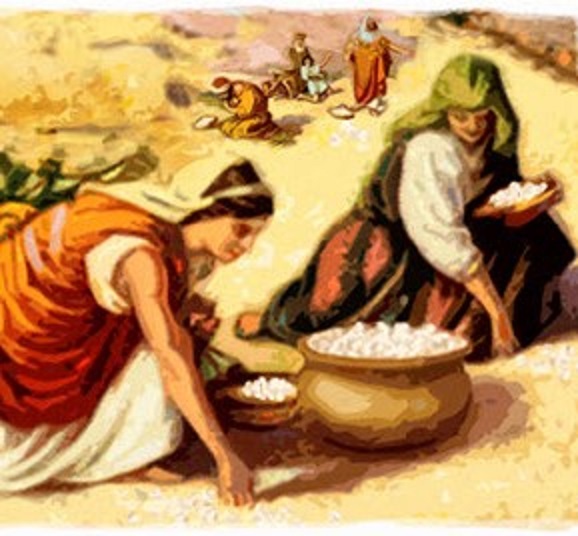 It is advisable that you prayerfully and meditatively read the text first.
YOU ARE ABLE
TEXT: EXODUS 4:1-7.
🔑KEY VERSE "And the LORD said unto him, What is that in thine hand? And he said, A rod" (EXODUS 4:2).
When God's call is upon anybody, He will provide all that is needed to make the work possible, even though there may be temporary adversity. He often calls us to do that which is beyond our natural abilities. Paul the apostle affirms, "Not that we are sufficient of ourselves to think any thing as of ourselves; but our sufficiency is of God".
Moses doubted the possibility of the children of Israel believing that he was sent by God. He revealed his insecurity about his leadership. He did not take to Egypt as evidence of his personal encounter with God on Mount Sinai. What is interesting about the evidence that he was to take back to Egypt were the signs that God gave him to prove that he was a messenger of God.
The Lord begins to work with a man with the little talent he has. Do not despise your talent or competence no matter how undeveloped it is. You will always start from the known to the unknown. Put to proper use the little talent available now for a bountiful harvest in the future. He said the children of Israel would not believe him if he told them his encounter with God. The almighty God told him to believe in himself.
Many people have remained in their mediocre level because they fail to accept the possibility of rising to the top from their little corner and with their Iittle knowledge. With our little, God can achieve great things through us. He proved to Moses that he could accomplish a lot with His backing. So, start to believe in yourself and develop the "I Can!" mentality.
✍THOUGHT FOR THE DAY Little is much when God is in it.
BIBLE IN ONE YEAR 1 SAMUEL 25-26.
MEDITATION
Necessity of signs in a skeptical world
The important question
a. Moses, having gone to the best school in Egypt, was no doubt a first class intellectual, Acts 7:21,22.
b. He knew that in order to inspire faith in God among skeptics, the need for supernatural signs is imperative.
c. His foresight, intelligent reasoning and a sound audience analysis made him to demand for signs that will make his ministry among skeptics easy, v1.
d. Every wise person sent by God as a soul winner, counsellor or minister etc must think through on what will be needed for the ministration to be effective and for the audience to submit to God. Just as God answered Moses, He will do the same to His willing vessels, v1.
Q Have you prayerfully thought through of what you need from God to be effective in your service or you are in hurry to move? The Apostles were asked to wait for 10 days in order to get the needed gift of the Holy Spirit, Acts 1:4.
e. The time of waiting on God is never a wasted time. One of the weapons of christian warfare is "preparation for the gospel of peace", Ephesians 6:15.
The imparted qualifier
a. What God gifted him to qualify him was just a divine impartation on what he already possessed, i.e. the rod in his hand, v2.
b. Every child of God has the innate gift or talent they need to function in God-given assignment in a measure.
c. What is needed, in most cases, is the anointing and impartation of the Holy Spirit to activate and supernaturally enable that gift.
d. Moses had the rod, he only needed supernatural unction on it. A talented natural teacher will be given the gift of a teacher to function more effectively. A natural argumentator may just have the life consecrated and purified with impartation of wisdom to be an effective contender for the faith. The Spirit may just lay hands on you and use your education or training for His glory.
Q Have you discovered yours? If NO ask God. If yes, you just need to develop it after the Holy Spirit has ignited fire on it.
e. Moses ran away from the rod turned serpent but exercised faith by touching the tail of the serpent in simple obedience to God without allowing fear, vv3,4. There is need for obedience and faith in God in order to upgrade your natural endowments to supernatural manifestations.
Prayer points
Lord, reveal to me the inborn gifts you have embedded in me.🙏
Lord, I hereby humbly consecrate those gifts for your glory alone.🙏
Lord, let fire of God activate and empower your gifts in me and turn them into supernatural manifestations.🙏
Lord, Let the gifts of God in every member of the Church be activated and empowered for effectiveness in this skeptical world .🙏
HYMN Give me a double portion (see http://www.traditionalmusic.co.uk/gospel-songs-chords/give-me-a-double-portion.htm for the lyrics):